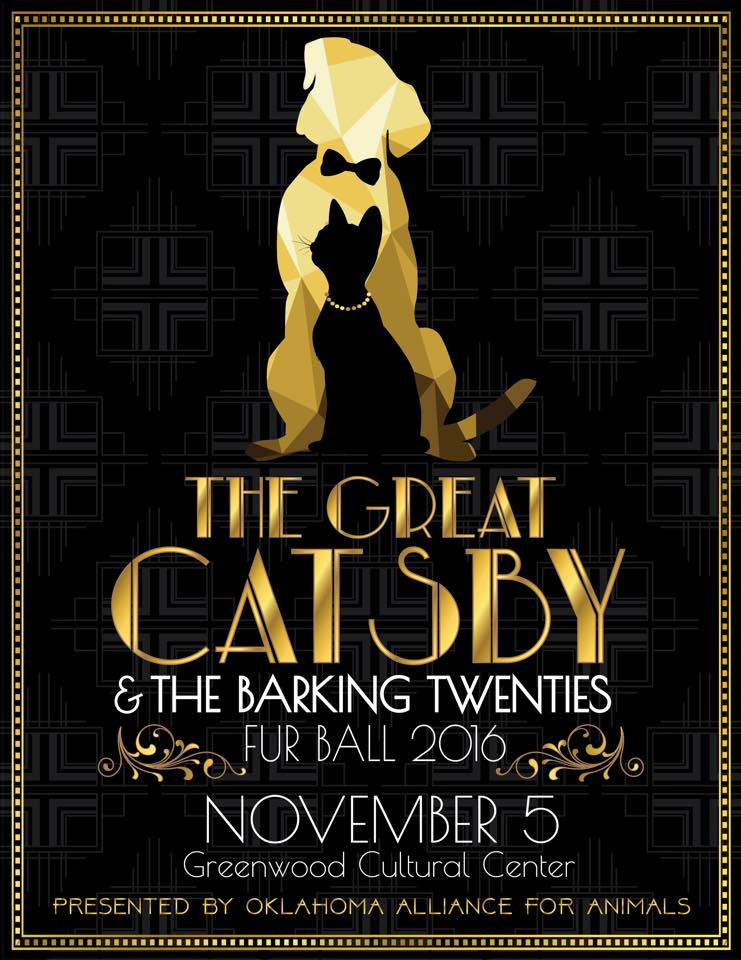 November 5 at the Greenwood Cultural Center in Tulsa
"I like large parties. They are so intimate!" — F. Scott Fitzgerald, The Great Gatsby
Join us for an evening of pearls and bow ties at Oklahoma Alliance for Animal's 11th annual Fur Ball Gala, "The Great Catsby and Barking Twenties." Fur Ball C0-chairs are Garrett Thomas and Kathleen Thomas.
This year's event will be on November 5, 2016 at the Greenwood Cultural Center and is sure to be a night to remember. Dinner, champagne, music, raffles, live and silent auctions, and games are just some of what this celebration has in store for Oklahoma's animal lovers.
The Oklahoma Alliance for Animals (OAA) works tirelessly throughout the year, partnering with animal welfare organizations, veterinarians, public officials, and the community to generate awareness and interest in animal welfare. However Oklahoma still faces a severe pet overpopulation crisis with tens of thousands of cats and dogs never finding homes. Together we can get closer to a time when no healthy, adoptable companion animal is destroyed simply because he or she doesn't have a home.
Fur Ball is OAA's largest annual fundraiser with all proceeds funding our many initiatives such as Unchain OK, spay and neuter assistance, public education initiatives, and pet adoption events. We have an ambitiously high goal this year but know that, together, we will be successful.
For information about sponsorships, donations, and tickets, please click here.