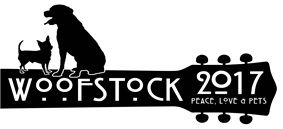 Mark your calendars for Woofstock – 2017, Oklahoma's largest and grooviest pet adoption – and your rescue organization should be there!
The event will take place on September 23, 2017 from 10:00 am to 2:00 pm at the Riverwalk Crossing in Jenks, OK and will be promoted heavily through BOB 92.9 FM, K-HITS 106.9, 98.5 KVOO, 99.5 Big Country and 1170 KFAQ. This will ensure lots of exposure for you and your rescue!
We are also asking all rescue organizations to participate in decorating their booth / canopy in the theme of the event. The grooviest booth wins a cash prize.
Click here for a Woofstock 2017 Reservation Form Please complete and return it by September 15, 2017 via fax at 918-587-7103, e-mail to info@animalallianceok.org or mail it to our office at 5321 S. Sheridan Rd., Suite 30, Tulsa, OK 74145.